Greystone Steakhouse
Case Study
Greystone Steakhouse is the premiere steakhouse in San Diego's historic Gaslamp Quarter.
Running a successful restaurant is a challenge, especially in a crowded market like Downtown San Diego. Two years ago, Greystone Steakhouse was concerned that they would miss out on the next wave of tech-savvy foodies. Today, they have a gorgeous website purpose-built to hook prospective diners.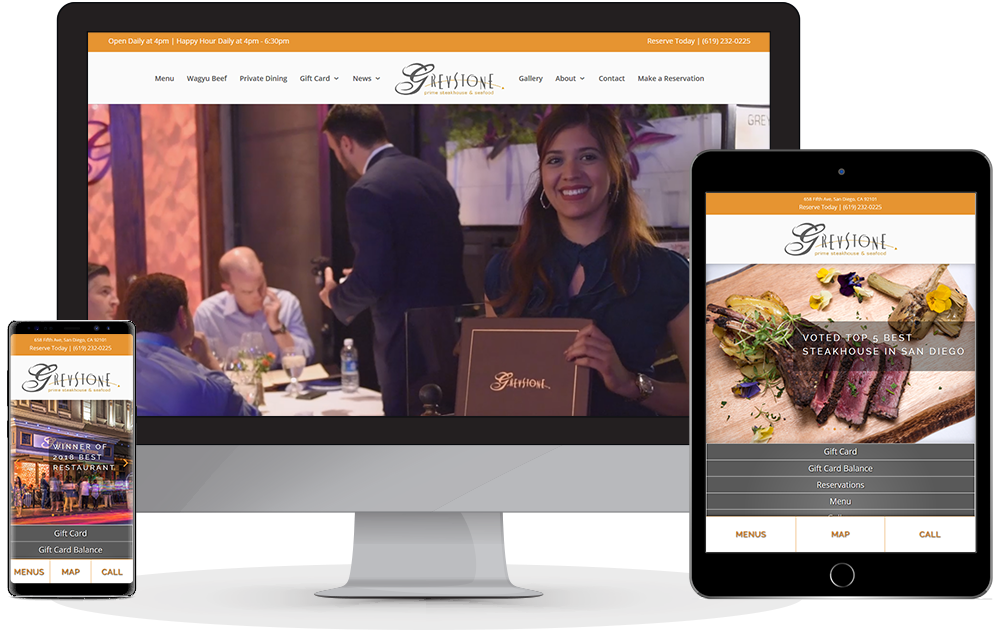 Increased revenue
18%
year-over-year.
Increased website visitors
27%
in just 4 months.
Increased organic web traffic
162%
in the last 2 years.
Making the cut
Greystone Steakhouse is the premiere steakhouse in San Diego's historic Gaslamp Quarter. Unfortunately, their old website didn't reflect the quality for which Greystone is known.
So in early 2017, the owners Vincenzo and Antonio contacted us to overhaul their website with 2 substantial improvements in mind: mobile-friendliness and search engine optimization.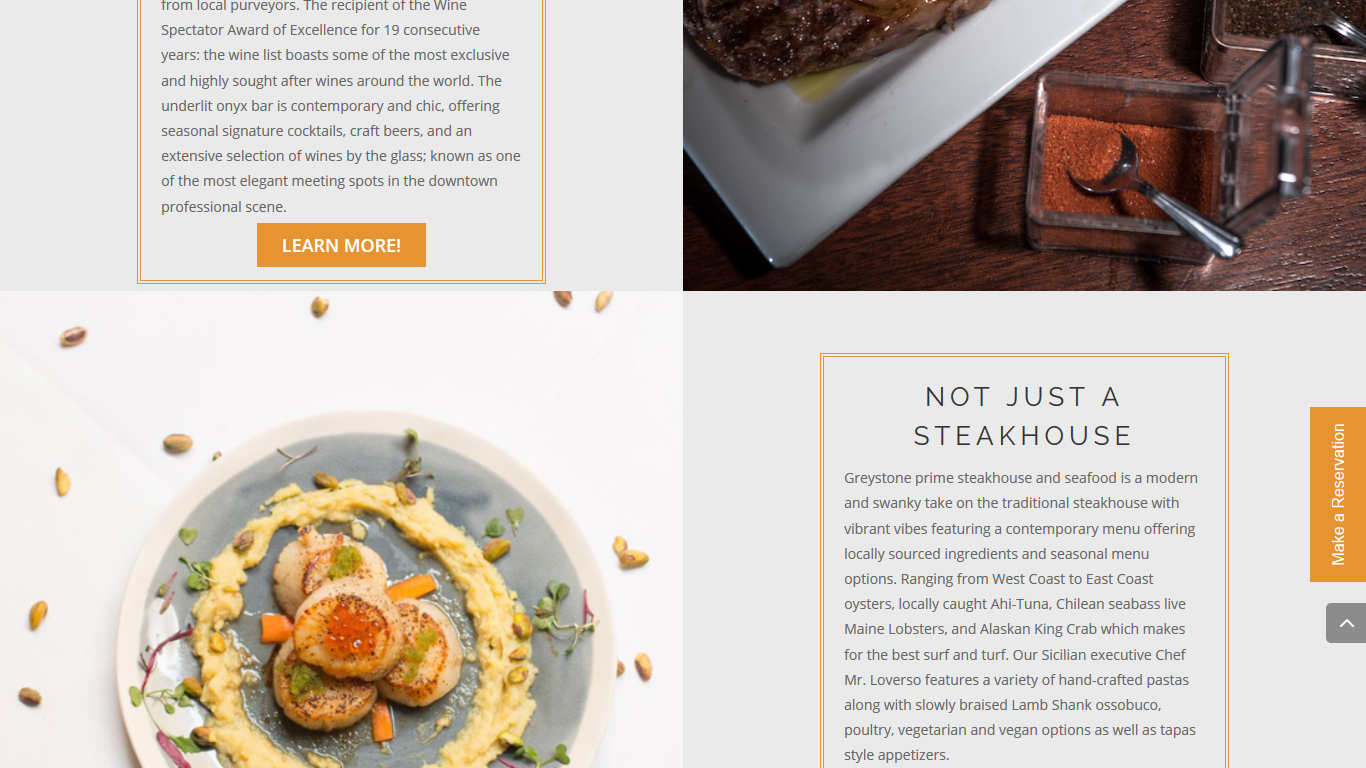 Eyes on the prize
Greystone's marketing team understood that an accessible, optimized website is only the means to an end.
After modernizing their website, we have continued to work with Greystone to manage advertising campaigns, improve their search engine optimization, and continue to add functionality that keeps them a step ahead of the competition. All of our efforts are coordinated to boost site visitors, reservations, and ultimately revenue.
Mobile is king
The restaurant industry is dependent on smartphone users, who make up 80% of their website views.
We knew it was paramount for Greystone to have a flawless mobile site — but beyond that, to make it frictionless for mobile users to dine there. We custom-built a bevy of enhanced mobile features, from a quick-action bar to Google Maps integration.
Bang-for-your-buck backlinks
One of the primary goals of our work with Greystone has been to improve their position in search engine results, and backlinks are a pillar of any good SEO strategy.
In addition to boosting their search rankings, the high-quality backlinks that we've added each month have contributed to a huge increase in traffic all on their own: an increase of over 85% in non-search-engine traffic in the last year alone.
See it to believe it
Restaurant websites hinge on mouthwatering photos, so we knew we'd need to deliver stunning photos that showcase the variety and quality of the food, drink, and ambiance in the restaurant itself.
We went one step further and produced a full-screen looping video to make a big first impression on their homepage.
Capabilities Used
Ad Campaigns / PPC Ads
,
Brand management
,
Content Management Systems (CMS)
,
eCommerce
,
Information Architecture
,
Mobile optimization
,
Photo enhancement
,
Photography
,
Search engine optimization (SEO)
,
User Experience (UX)
,
User Interface (UI)
,
Videography
,
Web design
,
Website development
,